Oh, have I got a treat for you today, readers! I got to read an advance copy of Seven Kinds of Rain by K. Lyn Wurth (you might remember her from an earlier blog post, in which I shared how she helped me through a writing crisis) and was excited to share it with you. So I reached out to the author and she agreed to a quick interview (insert me doing a little jig here [I'll spare you the visual!]).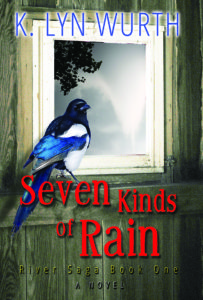 First, I have to say—that is a gorgeous cover! So tell us about the story…
Picture yourself a child around 1910, on the boom-town Great Plains. Most of the tallgrass prairie's plowed up, planted, and slashed with railroad tracks and dirt roads. You see more horses and wagons than automobiles, and false-fronted towns line the railways like beads on a string. The wild frontier is an echo, a freshly printed story in a dime novel, or your father's memory.
One night, for reasons you'll never understand, a kind old friend takes you out of a hotel and through a snowstorm, to a Lutheran orphanage where everyone speaks German. Your vaudeville life with your parents has been color, travel, satin dresses, dancing shoes and music, but now it's chores and cabbage soup. You're four years old. The orphanage registers you as Margaret Rose No Last Name Given, and you don't belong anywhere.
On the Oklahoma reservation, your Pawnee mother dies, but you're too young to understand what that means. Your old stepfather may love you, but you can't tell. He's sent you away to the Indian Industrial School in Genoa, Nebraska, to make you White. Your grandfather always called you Kuruk the Medicine Bear, but even his stories couldn't hold you in Oklahoma. You're a runaway now, following the Loup River south and west. You're hungry and scared, and you don't belong anywhere.
Your father is a railroad tycoon who built Darkwater Creek with his own money and other people's blood. Your mother died when you were born, and you figure it's your fault. So does your father, although he's too remote to say so. When a storm attacks you, you hear strange voices in your head, and you're afraid you're going crazy. You're Jack Hollingwood, the richest boy in town, but because your father owns and ruins everyone, you have no real friends. It's supposed to be your town, too, but you don't belong anywhere.
In a treehouse by the Republican River, you find others like you. When you witness things you shouldn't, crimes against other folks who don't belong, you can only tell each another. Together you build a world.
Storms come and go and you get by, until there's more blood on the ground and in the river than anybody can keep secret. It's up to you, Margaret, Kuruk, and Jack, to keep loving, to keep faith, even when the grownups get to decide who stays and who goes. Because you are the weakest, and yet the most powerful, people of all. You are the children of Darkwater Creek, and your world is Seven Kinds of Rain.
That feeling of survival, even when someone else has all the power to control your life, is definitely a universal experience, especially in childhood. Perhaps that's why I connected so strongly with the characters. Although I have to say that the details you incorporate throughout the novel, telling Margaret's Kuruk's, and Jack's stories, are fantastic! I felt like I was right there with them the whole time. How do you write so well about a setting and era you never lived through yourself?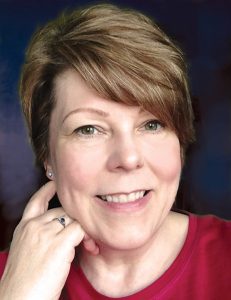 My grandparents settled in the Republican River Valley in the 1940s, and my parents were born there. It was the one stable family location, the point of the compass in my wide-ranging childhood. My maternal grandparents were both orphans, German Lutherans who experienced dispossession and poverty. They didn't belong, but carved a place for themselves in Franklin County, Nebraska. I loved visiting their farm and the town of Franklin. Memories and emotions from that place became the fertile ground for much of my storytelling. When I visit there now, I'm the only living relative, but my beloved dead still hold ground in the little Greenwood Cemetery. Even now, it still feels eerily like home along that Republican River.
As for the time period of the novel, from 1904-1919, I heard so many great stories from my grandparents about the early 20th century, the time of their youth, that I wanted to learn more. I couldn't find much fiction written about the post-Cather Nebraska of that era, but researched all I could find. The boom-towns of the plains in that era were fascinating, but not always just or welcoming places. The weather was paramount in deciding people's fates, poverty was rampant, and communication was slow. I learned about attempted settlements near my old hometown by African Americans near the turn of the 20th century and how the Pawnee were driven out of Nebraska long before that. It all came together in my mind, the way my stories do.
It sounds like a setting that is rich with possibility, but how do you develop such rich characters and stories?
Every work of fiction, short or long, begins with researching and immersing myself in a place I care about, at a pivotal time in its history. Then I do what I call "listening for voices," tuning in and developing protagonists, characters who exert distinctive qualities. Those qualities may attract or repel me, but they have to carry an emotional charge, to break into the story.
Once I've roughly fleshed them out, I put the protagonists in a room together in my mind so they can interact. Sometimes that first good inkling of a story line is a quibble or confrontation between two characters, be they friends or enemies, lovers or rivals. When they fight and talk back, I know I'm onto developing deeper people and relationships.
Each place and time also suggests villains, characters who–although fully human–enact and embody the injustices, the definitive conflicts and dark side of that episode in history. They become the larger forces that press against the protagonists, but they must remain specific, human, and unique. They must have worlds, histories, motives, and relationships of their own. They carry the darkness, but must also live and breathe in the dark.
Those are definitely my kinds of villains! Do you plan on writing more about these characters?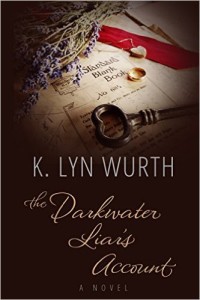 Seven Kinds of Rain, River Saga Book One is, as the title suggests, the first of a series. Book Two (title to be announced later) is well into rewriting/editing and should be published in January 2017. Margaret, Jack, and Kuruk demanded more time, so I, being outnumbered, happily relented. I wasn't ready to say goodbye to them, anyway, and Darkwater Creek needs them!
My first novel, The Darkwater Liar's Account, is also set in Darkwater Creek in Franklin County, Nebraska. That story unfolds between 1920 and 1968, spanning from Europe to the U.S. Readers may notice connections from that novel within these stories that predate Bridget's. For example, Seven Kinds of Rain reveals the origin and early history of the house Bridget later lives in, and the George Dakin Bridget falls in love with appears in childhood in Seven Kinds of Rain. Darkwater Creek is, after all, a small town, so such things will happen.
Okay, well I will let you get back to writing so we can read more about Margaret, Jack, and Kuruk. Thanks so much for sharing with us today. 
To learn more about K. Lyn Wurth's writing and for links to purchase her books, please visit www.klynwurth.net
To read her blog, where she shares what she learns in her research and her writing process, visit www.klynwurth.com
P. S. You can also check out my review of Seven Kinds of Rain on Goodreads (and while you're there, add it to your bookshelves).