This past weekend was challenging for me as a writer. I headed up north for the short story contest, where the prompt was "pit bull in pink chiffon." Such a great prompt, right? I was excited to write something cute and funny within the three-hour limit.
*Sigh*
Naturally my muse was feeling more of a sad and heartbreaking vibe. She seems to really like the dark, the morose, the disturbing. I went with it, trusting her to lead me down the right path, and created a story that I am really proud of.
And then I left the contest, got in my car to drive home, and started bawling.
Writing gritty stories about real (often ugly) human emotions/situations makes me feel like I am making meaning of something in the world that I don't understand. These stories feel true to who I am as a writer. I have repeatedly been told that my writing voice is authentic and honest, and people have strong responses to my stories. Unfortunately, part of their response is that they don't want to be left with the thoughts that my writing evokes. In other words, people feel engaged with my writing, but nobody wants to read the kinds of stories I write.
So do I stay true to my authentic writing voice/style (which everything inside me screams OF COURSE!) or do I try and write something else that feels fake and superficial but might be more accepted by readers? This of courses morphs into the question: If I don't stay true to myself when writing, then why bother writing? And as I struggle with these questions I start equating no one wanting to read my work with the idea that what I am producing is worthless (which then causes me to feel worthless).
This was my 40-minute drive home. Fun, huh? And the funk continued after I got home. I reached out to several author friends, but it wasn't until I contacted a woman I met at a conference last year that I felt like someone could truly empathize. The extremely talented K. Lyn Wurth had introduced me to her novel The Darkwater's Liar Account by mentioning that it had some darker themes and might not be for everyone. (I remember trying not to laugh when she said this as I had just written one of my darkest shudder-worthy pieces the week before.) So when I reached out to her, she was able to go right to the heart of the matter.
You absolutely, most certainly, forever must write what feels true to you. … You need to claim and be tenacious about your own authority to write. It may not be what the general population wants to read, but only by taking that authority and following it will you ever write anything meaningful.
(Yes, I am currently figuring out a way to tattoo her words on my hands so I see them 24/7, especially when writing.)
She's absolutely right. Without truth and authority, meaning is nonexistent. Sure I would be excited to find a group of readers who looked forward to reading my stories, but changing my stories to find more readers would be like me joining the NFL: I would have nothing to add and no way to really communicate with the other players. It would be more isolating than if I never left my house again. Plus, those big guys would just steamroll me.
So I will continue to write the stories that speak to me. I will continue to explore the characters that I find complex and intriguing, even if they aren't the most popular people at the party. I will continue to write and publish and if I connect with a reader or two along the way, then I will get all giddy for a bit before buckling down to write some more.
With this background, I think my response to Charli Mills' 99-word writing challenge over at the Carrot Ranch probably makes more sense. The theme this week was to write a frozen story. Once again, Charli is reading my mind as I have been frozen in my writing for several days.
Numb
I chew the ice cubes, softened by my chemical caffeine, and press the splintered chunks against the roof of my mouth, my tongue molding them back into a lump that crunches once again between my molars. I remember my dentist's admonishment and cringe. But he is not facing the white wasteland on my screen. Siberia would feel more tropical. One by one, I pluck words from my veins, peppering the wintry expanse with markers to lead non-existent tourists through the hinterlands. Chewing and plucking, I create a story upon a lonely dais that increasingly feels like an icy tomb.
***
If you're looking for a fabulously luscious novel, check out K. Lyn Wurth's The Darkwater's Liar Account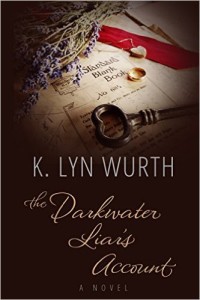 Love and lies led young Bridget into Nazi entanglement, through war-torn Europe, and across an ocean to her Nebraska farm. With secrets under the floor and graves in her garden, Bridget's a double wife living a double life as a legacy of retribution climbs her farmhouse stairs. When she discovers a tattered ledger, the empty pages invite her to confession, but can Bridget balance her accounts before the past breaks down her door?