I am not the biggest fan of Valentine's Day, which is ironic as it is very likely the date I was conceived all those decades ago. You'd think that I'd be at least a little excited about the date I became a twinkle in my parents' eyes.
I liked Valentine's Day when I was in elementary school, when we all celebrated everyone's existence. But by junior high, sharing the love with all of our classmates had fallen out of favor, exchanged for proclamations of love (or "like") for just one of our peers.
The older we got, the more emphasis we placed on celebrating the day of love. We were expected to come up with the most romantic gesture ever (each and every year) or have suitors lined up around the block, waiting for their chance to prove their love (or lust, in many cases).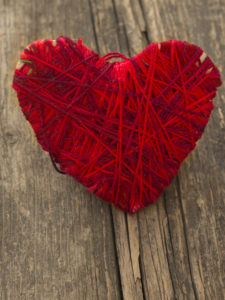 Yet not everyone embraced Cupid's endeavors. Some argued that romance should not be limited to one day a year. Others rejected the extreme commercialization of the day, with a focus on sugar hearts, chocolate truffles, and expensive roses in mid-winter (go broke while promoting diabetes—truly romantic, eh?). Still others were bothered by the idea that our self-worth should be defined by extravagant declarations of love by others.
Personally, I celebrate by focusing on love for the self. I count my blessings. I pamper myself by giving myself an entire day to do only what I want to do (and nothing that I *have* to do), whether that is a day of movies on the couch or a hike through the riverside hills. I give extra snuggles to the dog. And I reach out to all the people important to me and let them know that I am grateful to have them in my life, which also serves to remind me how lucky I am to have friends and family members who will tolerate my long-winded ramblings about…well, pretty much anything.
This year I celebrated the big V Day a day early because that's when it fit best in my schedule. I chose to spend the afternoon munching on yummy Mexican food while writing a guest blog post and working on a couple of stories that I never seem to find time for during the regular workweek. Okay, I also tweeted a bit about my local elected officials because they're just a crazy bunch and it's fun to remind them of that on a regular basis.
One of the stories I worked on was for Charli Mills' Carrot Ranch prompt for this week: In 99 words (no more, no less) write a story about a rainbow in a puddle. Okay, I will admit, I let my inner imp out to play when working on this story. Enjoy!
Celebrating Love
Rainbeau glanced at the chalkboard: hamburger, cheeseburger, and beer. Fish on Fridays, but today was Tuesday. Puddles was a lonely mom-and-pop bar—perfect for her first Valentine's Day alone.
"A burger, I guess." She smiled at the blue-coiffed septuagenarian not-so-patiently waiting for her order.
"That it?" The disgust was thick in the woman's voice.
"And a coke?" Rainbeau added as an olive branch.
The woman shuffled away.
Rainbeau refused to let the woman's cantankerous attitude steal her smile. She counted out the money for dinner. Tonight was the first of many celebrations. The divorce was final; she was free.