I am always writing intriguing phrases and lines that I think should be part of a story on old receipts, napkins, scraps of paper, junk mail—pretty much any surface that my pen's ink can penetrate. The problem is keeping track of all these scraps and then finding the right story for the right line. "Skeleton Dance" is one example where the stars aligned and I found a piece of torn paper with the line "My grandmother is trying to kill me" the day before I participated in a short story writing competition. Although I had scribbled this line more than a year prior, I knew that its story was ready to be written.
"My grandmother is trying to kill me."
Of course, I still didn't know what its story was.
The next day, driving up to the competition, I was unreasonably nervous. This was my first time participating in this particular challenge, where writers were given a theme and then had three hours to write a complete story incorporating that theme. During the hour drive, I was plagued by fears. What if no story came to mind? What if at the end of three hours all I had was a single line? What if the theme was something I didn't understand? What if the story I wrote didn't do the line justice?
And that was the heart of it. That line that I had found while cleaning my office was important to me. It spoke to me in a way I still don't understand. Its story had to be intense. It had to reach off the pages and grab the reader by the collar, screaming in frustration and agony so intense that it would shake the reader to the core. But it also had to have at least the tiniest bit of hope. By the time I arrived at the competition, I had decided that I didn't care what the theme was. I was going to write that line's story (even though I still didn't know what it was). I fully expected to leave three hours later with the start of a story that I would have to write and rewrite and finesse for months to come.
When the facilitator informed us that the theme was "skeleton dance," I felt defeated before I even began. I was sure that this theme was in reference to some cultural event, perhaps Day of the Dead? I could never do it justice if I didn't understand it. Luckily, another participant asked if we could separate the words, use them individually, and we were told we could do whatever we wanted with the theme.
Our three hours started, and I immediately typed "My grandmother is trying to kill me." Then I stopped. Who was this person, and why did she think her grandmother was trying to kill her? I took five minutes to brainstorm ideas. None of them made it into the story, but in the process, I discovered who this little girl was and who her grandmother was.
I started writing.
As I wrote, I imagined my own great-grandmother's basement apartment, and details starting sneaking into the story (I did,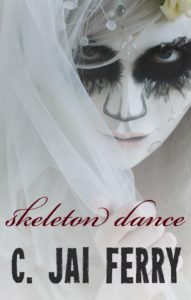 in fact, watch my first Divorce Court episode while sitting in my great-grandmother's kitchen). Just to be clear, my great-grandmother is nowhere to be found in "Skeleton Dance," and she never wanted to kill me, but her home offered such intense memories for the few times I was able to visit that it brought the story to life for me while writing.
When the facilitator notified us that we had fifteen minutes of writing left, I was typing the last line. I had written a complete story that felt worthy of that first line (albeit I had to tweak that line a bit to fit the story-telling, but I think the line forgives me for that). I walked out to my car and started shaking. Five minutes into my drive home I was sobbing. What had I done? What had I written? I couldn't even remember.
Thankfully, we had been allowed to email a copy of our story to ourselves before leaving the competition. When I got home, I immediately forwarded it to a writer friend whom I respect and asked for feedback. She agreed, put it on her to-do pile, and then life roared into the picture and we all got busy with family, the holidays, and other writing projects. "Skeleton Dance" sat on my computer and waited.
About a month later, I received the news that "Skeleton Dance" (which I had entitled "Surviving Grandmother" at the time) had taken first place in the competition. I'll admit, I got a little squealy on social media about that tidbit of news. My writer friend, remembering she had a copy of the story, pulled it up and read it, then asked if she could create a screenplay of the story. In the craziest twist of fate, "Skeleton Dance" the short story became Skeleton Dance the movie, a noir-style short film created by local filmmakers and actors who produced a visual feast worthy of that single line scribbled on a scrap of paper more than three year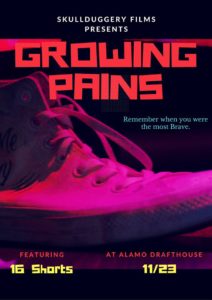 s ago.
Want to see Skeleton Dance for yourself? It will be one of 16 films shown as part of Growing Pains: Skull Shorts for Charity, to be held November 23, 2016, from 7 to 9:30 pm at the Alamo Drafthouse Cinema in La Vista, Nebraska. Tickets are just $12, and all proceeds benefit Youth Emergency Services.
If you plan on attending, drop me a line or comment below. I would love to see you there!