We all have moments in our lives that feel like no matter what we do, no matter how hard we try, the world seems to be working against us. We can face the battles head on or spend all our efforts side-stepping each new parry. If we're lucky, those moments are just that: moments. However, sometimes they stretch out, going on and on, with no end in sight. An end does eventually come, although sometimes we don't realize it until we're looking back, seeing just how far we've come, how much we've grown as we've fought to survive.
This week, Charli Mills over at Carrot Ranch Communications has challenged writers to own our battles and use them to inspire a story of renewal in exactly 99 words. My battle erupted in the summer of 2001, when three family members passed away in June and July, a friend committed suicide, the towers fell, and a long-term relationship ended in a foreign country. Everything came crashing down and I struggled to find some sense of normalcy, so I decided to fly home once the airports reopened after September 11. I remember walking through the Dallas/Fort Worth airport, my footsteps echoing in an unnatural silence that threatened to choke me while I tried to ignore the automatic weapons slung over the shoulders of an all-too-visible security force that seemed to outnumber travelers three to one. That day I was forced to redefine normalcy.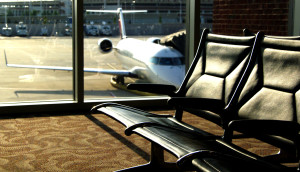 It's been nearly fifteen years, but that surreal silence still claws at my throat at times.
My response to the renewal writing challenge follows.
Baggage Claim

She chewed the last ice cube, letting the crunching fill the bubble of silence segregating her from the homecomings. God, she hated airport arrivals. They were like expensive candies: decadent, savory, gluttonous. She swallowed the shards of ice, pushing them past her rising indigestion as a smooth voice announced the last arrival from the coast. She scanned the faces. His was not among them. She tossed her empty cup in the trashcan and headed for the exit. Neiman Marcus was still open. She'd fill up his space with some new Oscar de la Rentas, Jimmy Choos, and indulgent candies.